Fishing
Excellent fishing on the Toccoa River.


Our 1000 foot Toccoa Tailwater frontage provides extremely rare access to Georgia's finest trout stream.

Our 1000 foot Toccoa Tailwater frontage provides extremely rare access to Georgia's finest trout stream.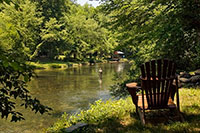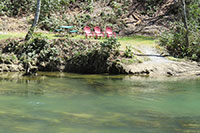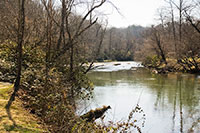 Description
From Toccoa River Tailwater by David Cannon:
A book focusing on the state of Georgia may not be the place for this statement, but I'm originally from Texas. I'm admitting this because I have a slightly different perspective when something is described as "big." "Big" reminds me of Big Tex at the state fair, the unending Texas sky and even my own mother's big Texas hairdo – which looks a bit like a Yellow Humpy – and big personality.
When my dad's job moved us out of the Lone Star State, we were able to settle in the biggest state east of the Mississippi. And, true to its size, Georgia has some claims to "big," as well. I now think of the Georgia Aquarium, Stone Mountain and, of course, the Big Chicken. And when it comes to trout fishing in Georgia, it doesn't get much bigger than the Toccoa River tailwater.
There are roughly 16 miles of tailwater running south-to-north from Blue Ridge Dam to the Tennessee state line where the Toccoa's name changes to Ocoee. And within that length, the river is generally broken into two sections. The first, which we will cover in this chapter, is the approximately 7.2 miles of water from the dam down to the Tennessee Valley Authority (TVA) park at Curtis Switch.
On a side note, 7.2 miles of river might not sound like a tough stretch to float over the course of a day. But even during the longer daylight hours of summer, many shallow shoal areas slow down even the highest floating watercraft. This float can be done in a day, but time spent working the best water will be too short if you want to make it to Curtis Switch before it gets dark. And believe me, you do. A good alternative is renting a cabin somewhere between these access points and floating either from the dam to the cabin or from the cabin down to Curtis Switch. Toccoa House Properties has four nice cabins almost exactly half- way between the points.
As you float farther away from the access points, the fishing only gets better. Plenty of rainbows and browns over 20 inches are caught every year and are almost always landed away from a public put-in. Of course, there are always a few big browns hanging around the dam or Curtis Switch, too, who are waiting for their "snack truck" to dump in a few thousand smaller rainbow trout. With this in mind, don't neglect a proven tactic on the tailwater; casting a 6- or 7-weight rod with an intermediate line and a big streamer to entice those carnivorous browns.
Of course, if fishing dry flies is your thing, this section can offer that all year long. During the summer months, the cold water of the Toccoa meets the sweltering summer air and, in shaded areas, creates a nice layer of fog. This probably makes the fish lose some of their inhibitions and definitely helps to keep anglers out of sight – a pretty good combination.
If you enjoy fishing streamers and dry flies, the worst thing about the Toccoa is the dilemma it presents; do you tie on a fly that imitates the insects or one that looks like a stocker rainbow? Maybe you should take two rods.
Types of Fish
Rainbow, brown and brook trout and the occasional smallmouth, largemouth, spotted- or rock bass, yellow perch and bream.
Known Hatches
Midges, Black Stonefly, Black Caddis, Gray Midges, Gray Caddis, Quill Gordon, Blue Dun, Blue Winged Olive, March Brown, Hendrickson, Olive Caddis, Sulphurs, Little Yellow Stonefly, Green Drake, Light Cahill, Tan Caddis, Yellow Drake, October Caddis, Terrestrials.
Equipment to Use
Rods: 4-5 weights for nymphs and dry flies, 6-7 weights for streamers. Both should be 8.5 to 10 feet long. Reels: It's a good idea to use a reel with a disc drag in case you run into one of the larger fish here.
Lines: Floating lines to match rod weight when fishing dries or nymphs; Intermediate lines to match rod weight when fishing streamers.
Leaders: 9- to 12-foot leaders tapered from 4-6X when fishing floating lines; 5- to 7-foot leaders tapered from 1-3X when fishing intermediate lines.
Wading: Floating in anything but a float tube is the best way to experience this fishery and chest waders are the best choice when hopping out of your watercraft to fish.
Flies to Use
Dry Flies: #22-28 Morgan's Para Midge, #18 Lowe's Little Dark Stonefly, #16-18 Black Elk Hair Caddis, #16- 18 Gray Elk Hair Caddis, #14 Quill Gordon, #16 Blue Dun, #22-24 Parachute BWO, #14 Eastern March Brown, #14-16 Dark Hendrickson, #16 Olive Elk Hair Caddis, #16-18 Sulphur Comparadun, #16 North Carolina Yellow Sally, #10 Coffin Fly, #14 Parachute Light Cahill, #16-18 Tan Elk Hair Caddis, #12 Jim Charlie Classic, #12 Elk Hair October Caddis, #14-18 Black Ant, #10-12 Foam Beetle, #8-12 Dave's Hopper, #14-18 Adams Para- chute, #12-16 Stimulator, #14-18 Adams Irresistible.
Nymphs: #22-28 Midge Pupa, #22-28 Brassie, #22-28 Serendipity, #22-28 WD-40, #18 Black Stonefly Nymph, #16-18 Black Caddis Pupa, #12-22 Pheasant Tail Nymph, #16-18 Dun and Yellow Caddis Pupa, #14 Quill Gordon Nymph, #16 Blue Dun Nymph, #22-24 BWO Nymph, #14 March Brown Nymph, #14 Dark Hare's Ear Nymph, #14-16 Dark Hendrickson Nymph, #16 Dun and Green Caddis Pupa, #16 Olive Hare's Ear Nymph, #16-18 Sulphur Nymph, #16 Yellow Stonefly Nymph, #10 Green Drake Nymph, #14 Light Cahill Nymph, #14-18 Hare's Ear Nymph, #12 Yellow Drake Nymph, #12 Ginger Caddis Pupa, #14-16 Hardbody Ant, #8-12 Woolly Worm, #16-20 Lightning Bug, #16-20 Rainbow Warrior, #14 San Juan Worm, #14 Y2K Bug, #10 Hur- less Nymph.
Streamers: #6-10 Krystal Bugger, #6-10 Woolly Bugger, #6-10 Muddler Minnow, #8 White Bead-head Flash Zonker, #8 Zonker, #6-10 Mickey Finn, #6-10 Black-nosed Dace.
When to Fish
The only time fishing slows is when Lake Blue Ridge turns over. Besides that, fish here every chance you get, particularly when the water is falling after the generator at the dam turns off.
Seasons & Limits
The Toccoa tailwater is open to fishing all year and is under general regulations.
Nearby Fly Fishing
Jones Creek, Noontootla Creek, trophy-managed Noontootla Creek Farms, the upper Toccoa including the Toccoa DH, Blue Ridge Reservoir and plenty of other small streams are all within a short drive of this sec- tion of the tailwater.
Accommodations & Services
Unicoi Outfitters, Reel Job Fishing, Reel Angling Adventures, Southeastern Anglers, and Feather & Fly all guide on this river. The only fly shop in the area, however, is Unicoi Outfitters in downtown Blue Ridge.
All Reservations Include:
Free WiFi
Satellite TV
Laundry Access
Swimming Pool & Hot Tub Access
Disc Golf
Walking Trails
River & Fishing Access