The Fish Camp
Secluded waterfront property.


Viewed from the waterfront, the expansive property provides many options for relaxation.

Professional landscaping accents the property.

A super easy boat ramp makes river access for a Jon boat, canoe, and kayak a breeze.

The kitchen is the heart of our total renovation, with all new cabinets, appliances and fixtures.

We blew out all of the walls, re-framed and drywalled/panelled this main space. The result is magnificent, we think.

Here is a view of the kitchen, gas range, and fridge.

The main bath has all new components, featuring a large shower, pedestal sink and commode. While we realize most Florida water is terrible, we have invested in a system that removes the usual sulfur smell.

The guest bedroom features nice windows and a comfy queen bed, along with dual nightstands and overhead recessed lighting.

Another view of the guest bedroom.

The guest bedroom connects to the master via a locking door for both options of privacy or open for kids.

The master bedroom has a half bath, with high end fixtures.

Another view of the master half bath.

Enjoy the firepit near the waterfront, with firewood provided.

Easy boat access to the Withlacoochee right from our graveled ramp.

Canoes, canoe trailers, and an open trailer are available for rent, just ask.

We love this large canopy as it is perfect for multiple storage needs from boats, ATVs, or just coolers.

The "back yard" has some nice green space and palm trees. The new HVAC system is visible in the left/center and can provide climate control even in the hot Florida months.

Easy, gravelled access is provided along with ample parking.

The living room connects with the kitchen and breakfast table.

Sink into the comfy furniture for a movie, or utilize the work space beyond with a monitor, keyboard, mouse, WiFi, and Bose Speakers.

View of kitchen facing the main bath and guest bedroom.

View from the breakfast table toward the living room/work space.

The large shower with nice head and multiple shelves for storage.

Enjoy our Florida water theme, along with the new commode.

The large master features a high end queen mattress and dual nightstands, along with great lighting.

The master has a separate entrance off the screen porch.

Another view of the master, with oak dresser, and optional stairway to the guest bedroom.

The master bedroom is perfectly positioned to take in the Eastern sunrises, along with the waterfront area.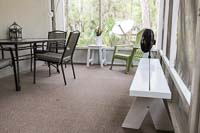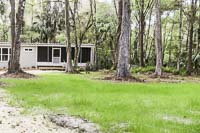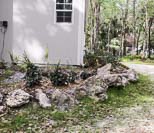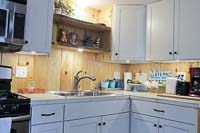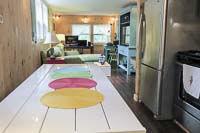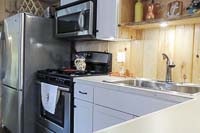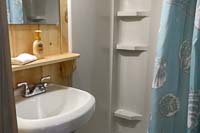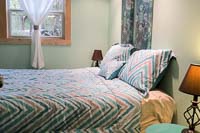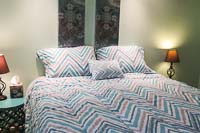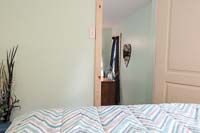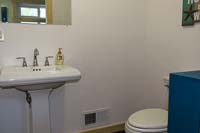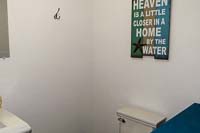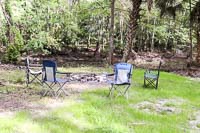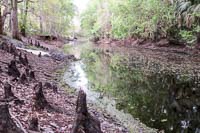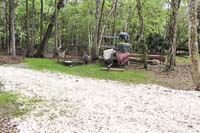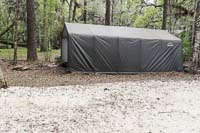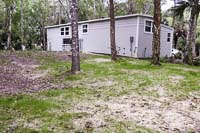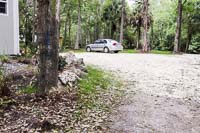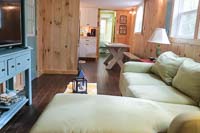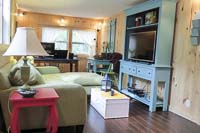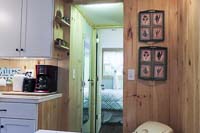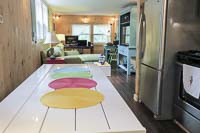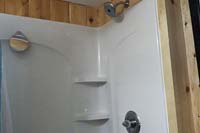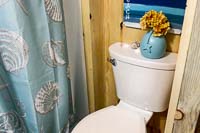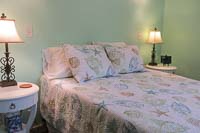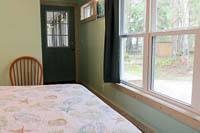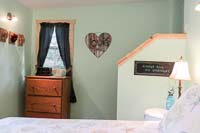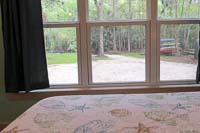 Description
Secluded waterfront property that has been completely renovated. Bring your boat and enjoy easy access to the Withlacoochee River, one of the largest watersheds in Florida. Bring your ATV or golf cart and park in the carport, for leisurely cruising the numerous back country roads. Comfy beds, stocked kitchen, and work space (wifi, Bose speakers, etc.) make for the perfect Florida destination. Crystal River and the Gulf Coast is 20 minutes away. Big Blue Spring is a mile by river or road.
Availability
Details
Bedrooms: 2
Bathrooms: 2
Sleeps: 4
Off Nights: $150+/night
Peak Nights: $150+/night
Pets Allowed: Yes
Additional fees apply for weekends, holidays, peak nights, pets and additional guests.
A minimum two night stay is required (5 for holidays), and is available for $150 per night. This price cover up to 4 guests; each additional guest is $15 per night. No charge applies to children under 3 years of age. Additional fees apply for day-guests and campers (not admitted without prior approval).
There is a $25 per night pet fee for each approved pet. A credit card deposit of $200 is required to secure a reservation (refundable up to 30 days in advance of check-in, minus a $75 administrative fee). A housekeeping fee of $70 is also added to each reservation, along with a municipal lodging tax.
Check-in time is 4PM. Check-out time is 11AM.
All Reservations Include:
Free WiFi
Laundry Access
Walking Trails
River & Fishing Access