The Carriage House
Ridge-top location with excellent views.


The large driveway provides easy access and an exceptionally great basketball court

Apple, peach, and pear trees adorn the east side of The Carriage House

The gourmet kitchen features stainless appliances, a rosewood countertop, and comes equipped with plenty of equipment for whipping up great meals.

Sink into the comfy leather furniture and watch the big game or a moving

Sink into the comfy leather furniture and enjoy the big game or a movie.

The upper master bedroom is bright and sunny with exposed beams on the ceiling

The over-sized ground floor bedroom has two queen beds and it's own bathroom

Here is the other bed in the ground floor bedroom

The master bathroom is large with jetted tub/shower and custom rosewood countertop.

Soak in the large, luxurious and private hot tub

Soak in the large, luxurious and private hot tub

Enjoy a friendly game of billiards at the high end pool table

The west facing balcony and flagstone patio provide great views of Dickey Ridge across the river

The large gas grill on the balcony is connected to house tank (not bottles to replace!)

The balcony off the master bedroom provides excellent views of the east ridge

Enjoy views of Dickey ridge across the river valley while playing a round of hoops

Autumn brings fantastic colors and many visitors so book reservations early

Our gardens and grounds are constantly changing including a mix of lovely flowers

Enjoy lunch on the flagstone patio picnic table while watching the kids play hoops

Enjoy a fire while lounging in the Adirondack chairs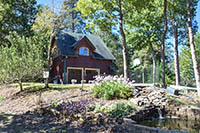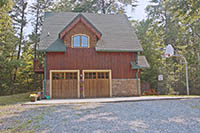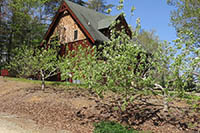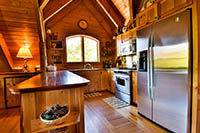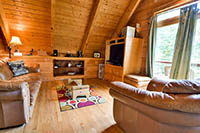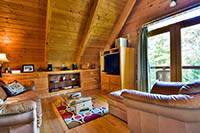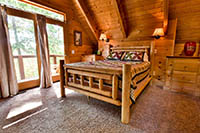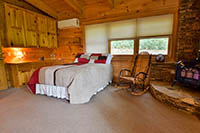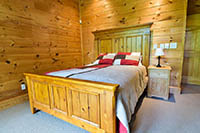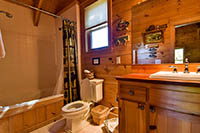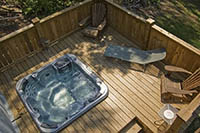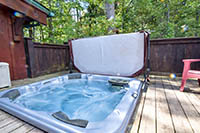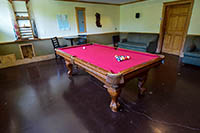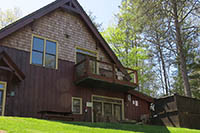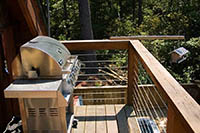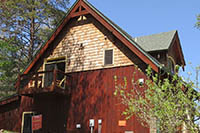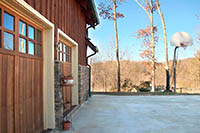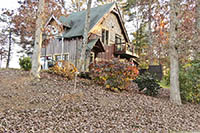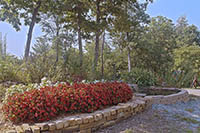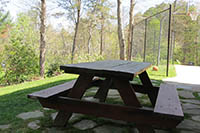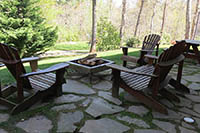 Description
With its ridge top location, The Carriage House offers outstanding views of the Toccoa River Valley on all sides. Built in 2004, this two-story cabin features vaulted ceilings, a cozy great room, and excellent mountain views.
Interior
The upstairs bedroom features a Queen size bed and glass doors that open onto a private deck. The ground level bedroom is sufficiently secluded from the upper level, creating an ideal environment for two couples/families. Both bedrooms have their own television and volume control for the house stereo system.
The Great Room offers the essentials of relaxation: comfortable leather furniture and a large flatscreen TV. The fully loaded kitchen offers stainless appliances and gear for the gourmet cook. In the dining room, a long bench-style dining table makes for spacious, enjoyable meals. And don't forget to enjoy a friendly game of pool in the garage gameroom.
Decks and Hot tub
The Carriage House offers two decks on the upper level, which provide ideal spaces for viewing wildlife, relaxing with a good book, or taking in the sunrise to the east or the sunset to the west.
Sunken into its own separate deck, the seven person hot tub provides the ultimate in relaxation. A stone patio with woodburning fireplace and dining table makes for the best of outdoor living.
Local Features
When you stay at The Carriage House, you'll have access to several local features. Enjoy a swim in the seasonally heated in-ground swimming pool (heated from Memorial Day to Labor Day - polar bears welcome year round). And be sure to take advantage of the world-class trout fishing on the renowned Toccoa River (we own over a thousand feet of river frontage).
Availability
Details
Bedrooms: 2
Bathrooms: 2
Sleeps: 6
Off Nights: $150+/night
Peak Nights: $200+/night
Pets Allowed: Yes
Additional fees apply for weekends, holidays, peak nights, pets and additional guests.
A minimum two night stay is required (5 for holidays). The Off Night rate is $150 per night; the Peak Night rate (Friday/Saturday, all nights during a holiday stay, and all nights in June, July, August, and October) is $200 per night. These prices cover up to 4 guests; each additional guest is $15 per night. No charge applies to children under 3 years of age. Additional fees apply for day-guests and campers (not admitted without prior approval).
There is a $25 per night pet fee for each approved pet. A credit card deposit of $200 is required to secure a reservation (refundable up to 30 days in advance of check-in, minus a $75 administrative fee). A housekeeping fee of $70 is also added to each reservation, along with a municipal lodging tax.
Check-in time is 4PM. Check-out time is 11AM.
Additional Information:
Current Specials
30% Off Last Minute Bookings: Book within five days (120 hours) of the 4PM check-in and receive a 30% discount. Excludes holidays and weekends.
Longer Term Special: Book three nights and get a fourth free, or book a week and only pay for five! Excludes holidays, summer and the Atlanta properties.
All Reservations Include:
Free WiFi
Satellite TV
Laundry Access
Swimming Pool & Hot Tub Access
Disc Golf
Walking Trails
River & Fishing Access